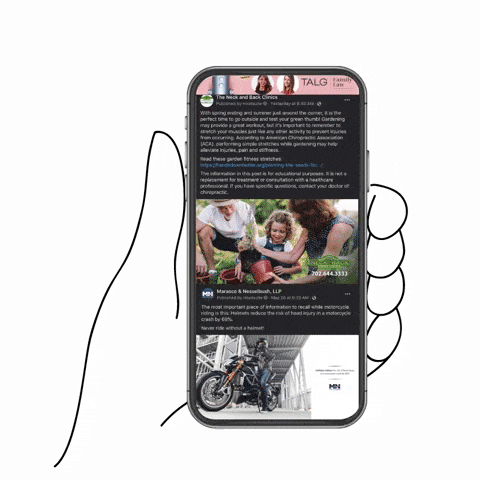 social media/
public relations
Social Media
Facebook, Twitter, Instagram, LinkedIn, and a wide variety of other platforms have crept into almost every corner of our lives. Social media is how we connect and communicate, and that's not changing. It's crucial to remain relevant and increase your marketing reach by taking advantage of social media. But it's not enough to send out a few tweets, post on Instagram once a month, or invest in slapdash social media advertising spends. A top-rate social media presence requires detailed examination, data analysis, and constant evolution so that you realize a return on this critical investment.
Social media marketing is like art and science working together. You want a balance of posts that are on brand and that your audience wants to read. You've seen it done poorly many times; the business has a Facebook feed of nothing but thinly veiled advertisements. Keeping up with social media demands can be challenging. That world moves at lightning speed. Trends and popular platforms can change quicker than the weather. Staying relevant takes constant elbow grease, creativity, and vigilance. It's a huge task. Don't worry. CIM Marketing Partners will handle your social media strategy to keep you relevant to your target audience.
Public Relations
It's all about image.
Public relations and marketing have always been deeply connected. However, with a quickly changing landscape spurred on by the popularity of the internet and social media, public relations and marketing have become inextricably intertwined. In fact, some marketing professionals may struggle to define the difference. We believe the primary focus of your marketing strategy is to generate and nurture a growing lead pool with the ultimate end goal of increasing sales. Your public relations strategy, on the other hand, will focus on maintaining and promoting your brand's positive reputation. Think of public relations as favorable reputation maintenance and management. It requires constant vigilance and a proactive approach. CIM Marketing Partners understands how vital a positive image is for your brand. We work to ensure your brand is not only well-liked but becomes a pillar in the communities you care about most.
Control the message.
Has your company released a new product, hired a new CEO, or entered into a new partnership recently? That's great news! Spreading that news to current and potential clients should happen quickly and accurately. Allowing a competitor to tell your story or beat you to the punch takes away your ability to control your own message. In some industries, competitors can turn positive news into negative quickly. It's critical that your public relations strategy stay ahead of big company news and make sure it gets distributed the way you want it distributed. CIM Marketing Partners will give the power back to your business. Your brand's story and message should be in your hands. We'll help you do it right.
Ingrain your brand:
doing well by doing good.
It's important that your brand and reputation become a part of the communities you serve. Ingraining your business into the minds of your target audience helps your business maintain a steady footing on a slippery slope. Positive relationships with the communities you serve must be constantly cultivated. CIM Marketing Partners will help you choose appropriate community opportunities, such as charity events, baseball league sponsorships, speaking engagements with local groups, team member athletic events, and more. Firmly planting yourself into the communities you serve builds trust and confidence in you and your brand. Public relations is a longstanding marketing concept, but trust isn't built overnight. Building your community reputation takes time and dedication. We help you get there.
Spanning platforms.
A positive public relations strategy involves more than just your image within the community based on volunteer efforts, client experiences, or word of mouth. We nurture a broad and far reaching public relations strategy. Of course, we develop positive press releases to keep your brand's message spreading, but we also focus on securing speaking opportunities, cultivating relationships with local and national media, and becoming involved with industry organizations.
CIM Marketing Partners also addresses the biggest change in public relations in the last 20 years: Your brand's online reputation. The increasing prevalence of internet research means you have another opportunity to promote and maintain a close watch on your brand's reputation. It's a big task, though. The internet has exponentially increased the size of your community. Your social media accounts, websites, and online reviews have become a part of your image. CIM Marketing Partners will ensure your brand's PR efforts span every platform and constantly promote your positive image.