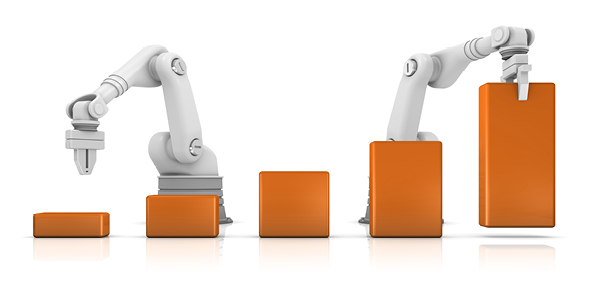 marketing automation
If you build it,
they will come. Right?
Wrong. We believe that marketing automation has an essential part to play in both lead generation (expanding your lead pool) and lead nurturing (turning a lead into a client). However, just like all tricky marketing concepts, it must be done right. Solely focusing on lead nurturing while ignoring lead generation is a big mistake. You might end up spending a huge amount of time setting up an impressive lead nurturing campaign for a tiny lead pool. That translates to a lot of effort with little payoff. On the other hand, setting up marketing automation efforts that help expand your lead pool, but ignore lead nurturing efforts could be equally as fruitless and potentially more damaging.
You bring them in and then…forget about them? That's not the message you want your brand to send. You don't want your automated marketing efforts dropping the ball at any point. It takes a lot of know-how and effort to set up and maintain an effective automated marketing strategy. CIM Marketing Partners is here to help you every step of the way.
Do I still need a
marketing department?
So, you're excited about setting up an automated marketing strategy that will help propel your brand forward and save your team valuable time. That's great! Marketing automation will play a critical role in your marketing efforts, but you're still going to need your marketing team to set it up properly, constantly analyze results, and ensure your automation efforts are evolving to suit your business's needs. So, the short answer is, yes, you still need that marketing department. However, organizations that don't employ a full-time marketing department can rely on CIM Marketing Partners to act as their marketing arm. We can set up and maintain an effective automated strategy that will work for your business.
No easy feat
Just putting the term "automatic" into a concept makes it sound easy. You should know that marketing automation and the software that makes this possible is incredibly complex and powerful. Want to know where so many businesses go wrong and why they might tell you marketing automation is a waste of money? They bought the software.
It was a big, sticker shock-inducing investment, so they skimped on proper implementation and training to save money. Then, they fired off poorly crafted campaigns that didn't generate results. They realized little to no return on a big investment. They walked away disappointed.
Sure, for them, marketing automation felt like a waste of money, but bottom line, buying software or investing in a marketing automation strategy is easy; putting in the time to get it right isn't. CIM Marketing Partners has walked this path many times before. Our sleeves are always rolled up. We're experts at the software, the strategy, and the execution. We don't deliver haphazard eblasts; we put in the time and effort to set up effective campaigns. We know how to make marketing automation effective.
Aim for the bullseye
One key to a successful automated marketing campaign is to ensure you've narrowed your scope. You don't want to send drip campaigns to huge lists of prospects in the hopes that a few might bite. That approach typically delivers an incredibly low return on investment. An effective marketing automation campaign on any platform should be highly specific and targeted. Remember, you want your intended audience to feel like someone is talking directly to them and understands their unique needs. That means each automated marketing campaign that is developed should have a particular type of prospect in mind. Starting out with a specific group is step one.
The next step is to analyze that group's behavior patterns and plan accordingly. Every type of response should be considered and addressed. For example, you may want to send a targeted, automated marketing email to 1,000 potential leads. As you know, a portion of those recipients will open the email, some will answer your call to action by clicking a link within the email, and some will entirely ignore the email. Each of these responses is a unique path that must be addressed with a follow-up automation. The people who followed your call to action by clicking through get a thank you email and an invitation to attend a free webinar. The people who ignored your email get an entirely different message. Each subset is addressed based on their personal response to your message. No one falls through the cracks. It's a huge task, but if done well, can deliver huge results. We help you determine the right timing between actions and develop A/B test messages for maximum effectiveness and desired response. CIM Marketing Partners knows how to plan each path so your target audience gets reached.
Automate every platform!
Effective automation strategies include more than just e-blasts! You should be automating all your digital platforms, especially social media. Social media platforms have excellent tools that allow businesses to strategically get their brand in front of their target audience in a very effective and well-timed way. Social media is a crowded world, and we can guarantee at least part of your intended audience actively uses it daily. That means they're out there. They're looking and listening. CIM Marketing Partners will make sure they turn your way.
It's not just about
new leads
We've talked a lot about your target audience and generating a larger lead pool. While that's incredibly important to your business, we also believe that a complete automated marketing strategy should include touchpoints for your existing clients, as well. It's another opportunity for relationship marketing. Use it to show them you care, that you know your stuff, and that you'd appreciate their repeat business. Cultivating the relationship with your clients is critical, and an effective marketing automation strategy shouldn't leave them out. CIM Marketing Partners will ensure you're addressing your current, former, and potential clients with your automated marketing strategy.
Analyze, analyze, analyze!
Data is golden. With almost every marketing strategy out there, we'll emphasize the need to analyze and interpret the data. Marketing automation is no different. In fact, if you aren't analyzing the data generated from your automated marketing efforts, you're likely blindly throwing away money. That's never a good plan. CIM Marketing Partners understands the nuances of automated marketing efforts. We take the right approach the first time around to ensure every piece of this complex puzzle is in place, so no one falls through the cracks or feels like a meaningless contact on an email on a list. CIM Marketing Partners will dive deep into the returned data for every automated marketing effort so results get delivered.