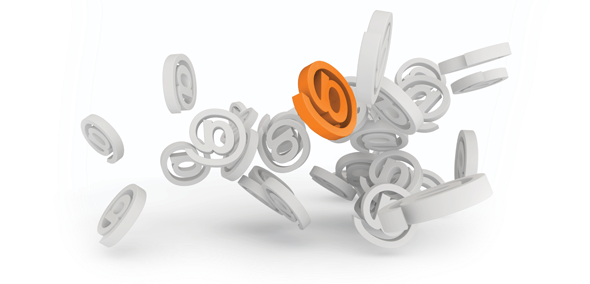 email marketing
Email Marketing delivers results.
The industry has spoken. Email is up to 40% more effective at acquiring new customers than social media, with higher average orders and a larger ROI. Your message is much more likely to be seen in a customer's or potential customer's inbox than on their Facebook feed, even if they don't click through any links. An effective and automated email marketing campaign is almost a must these days. Some businesses shy away in fear of coming across as aggressive, or they become concerned that their message will simply end up in a spam filter. While those are certainly two critical traps to avoid, CIM Marketing Partners believes a healthy email marketing strategy can be incredibly advantageous to your business's success. With our experience, you receive creative and effective design, appropriate content, well-timed delivery, personalized messages, data analysis, and constant testing. We have the skills to design email campaigns that convert.
Have you checked
your email yet?
We'd be willing to bet you've already checked your email a few times today. You may even have your email inbox open right now. Let's face it, email is prevalent. Most of your clients and potential clients have an email address, and they actively monitor their inbox EVERY SINGLE DAY. Do you know what that means? Email is an exceptional way to communicate with your target audience. Trust us; they're listening. CIM Marketing Partners will craft effective and impactful email marketing campaigns and eye-catching eblasts that not only reach your intended audience, but also get their attention and keep them captivated. That means your business will always be top of mind when it needs to be.
Big brother IS watching.
More and more state and federal laws and regulations are keeping tight reigns on businesses and the way they employ email marketing. If you're not fully aware of the rules of the road, it's easy to misstep and even find yourself in hot water. It's not just the government you need to worry about; other groups, including internet providers and state agencies, have developed policies to keep email inboxes clean. Staying in your lane is important, especially when the lines keep shifting. CIM Marketing Partners closely monitors all state and federal rules to ensure our clients stay in bounds and in the good graces of regulators and key organizations. We'll watch the road, so you don't have to.
Get permission first!
You can no longer send messages to email addresses haphazardly bought from list selling sites or gathered by other means. Everyone who is a part of your email database must have opted in! Someone needs to have intended to be a part of your email database and expressed interest in receiving email correspondence from your business.
We have the experience to craft language on your website or other materials to ensure your clients and potential clients are opting in. We ensure your compliance.
Don't get filtered out.
Need yet another roadblock to think about when it comes to email marketing? You may have done everything right; you aren't violating any laws or pertinent policies, and your list consists of opt-in email addresses only. So, no more concerns, right? Wrong. One more big land mine to consider is the ever-present and increasingly intelligent spam filters. Even good emails can be captured if you're not careful. CIM Marketing Partners knows how to keep your emails clean and trustworthy. That means, amongst a variety of other considerations, avoiding IP addresses with a bad history, templates with cluttered codes, and content filled with overly salesy or blatantly click bait-y language. Regardless of the trap, CIM Marketing Partners ensures you're always a few steps ahead.
Make it worthwhile.
Effective email marketing starts with the basics: Good, creative, and impactful writing and design. You can't just drop addresses in, start firing off emails and expect a massive ROI. If you're going to use email marketing (and we wholeheartedly believe you should), YOU HAVE TO DO IT REALLY WELL. Poorly written, sales-y, bait and switch, or altogether useless emails accomplish nothing except, perhaps, a higher opt-out rate and negative brand recognition. Your content must be inventive and interesting, your brand should shine, and the email message must resonate as personal and thoughtful. Sounds easy enough, but as with any high-quality bar, it's harder than it seems. Did you know that personalized emails have a significantly higher click-through rate? Yet, only a small number of companies are taking advantage of highly personalized content and subject lines. CIM Marketing Partners will drive your email marketing strategy in the right direction.
Timing can mean everything.
Guess what? Emails sent at 2:00 am don't get anywhere near the open rate as emails sent at 10:00 am. In the same vein, a near-perfect email sent on a Sunday may fall completely flat. If you had sent that same email on Thursday, it may have yielded one of your biggest ROIs of the year. Similarly, automating your emails through sophisticated drip campaigns can help ensure you hit clients at just the right moment for conversion. The drip campaign tactic ensures no actions fall through the cracks while putting your potential customer in the driver's seat. We can help you set up campaigns at appropriate touchpoints. Don't feel the sting of setting up a great campaign that misses the prime timing mark! CIM Marketing Partners will conduct thorough market research so we know when your target audience is in their inbox.
Segment your lists!
Every email campaign is not appropriate for everyone who is a part of your email database. Segmenting that database is critical so you can easily target groups for more impactful and effective email marketing. Perhaps you want to reach out to inactive clients, or maybe you only want to target your newest customers. Tagging those email addresses appropriately with as much associated data as you have gathered will make a world of difference to your results.
Tools make your life easier
Ready for some good news? While the strategy behind email marketing campaigns can be complex, the execution is easy. There is a plethora of email services to help you send targeted emails and email blasts to your intended list. We could rattle off at least a dozen options, but Constant Contact, Mailchimp, GetResponse, and Active Campaign are at the top of their game. These companies not only help send the actual emails, they can time campaigns, tag email addresses, automate marketing emails, and make your email marketing life a little easier! CIM Marketing Partners understands these tools and puts them to work for our clients.
Data, data, data!
What was the open rate for your last email marketing campaign? What about click-through rate? Did the call-to-action text or the call-to-action button convert more clicks? How many names did you add to your email database last month? On average, how many clients or consumers are opting out per email blast? If you can't pull these metrics quickly and easily, then we haven't hammered home the importance of data enough. Data analysis drives intelligent marketing! Every email campaign should begin with data collection and analysis and should end the same way. Was that eblast successful, or did timing negatively impact results? CIM Marketing Partners will help you thoroughly analyze the critical data to ensure every email campaign is well planned and well executed to achieve stellar ROI.
It's always about balance.
As with most marketing strategies, it's crucial to develop and maintain a well-rounded email marketing arm of your overall marketing strategy. Your business shouldn't pick one type of email and expect an ongoing return on investment. Your email campaigns and eblasts should be varied and interesting. While it's fine to distribute consistent messages that appeal to your base (think interesting weekly newsletters or helpful how-to guides), that shouldn't be the only avenue of email marketing your business uses.
Variety begets engagement. Engagement begets brand loyalty. CIM Marketing Partners will help your business tiptoe the marketing tightrope to grow your brand.