Have you ever considered why your customers or clients stick around or keep coming back? It's because you've invested energy and time in building a relationship with them – and the personal touches you've added to your marketing efforts along the way have resulted in a long-term relationship.
If you haven't begun to develop a long-term relationship, now is the time to start. There is one key element that will help you, and that's to provide extraordinary and personalized customer service.
Once you've secured a relationship with a client or customer, don't stop marketing to them. Continue to work diligently to retain them day in and day out. Actively communicate with them, and do it often. And, there are many ways you may achieve this–use social media platforms to your advantage–and gifting is a memorable, personal touch. Gifting keeps you top-of-mind and can go a long way toward building a positive relationship. And, it's sure to make them feel important!
If you think relationship marketing has no benefit, think again. It's a win-win for everyone. Your customers have a reliable service provider and you have a loyal client or customer who will promote your business by word-of-mouth–now that's priceless free advertising!
The concept behind relationship marketing is to create customer loyalty. A loyal customer is one likely to stay with you and your company, and refer others to your business. The reality is that it takes time to cultivate a relationship, take the time today. Remember, your company's success is all about relationships, relationships, relationships!
So, how much have you invested in customer retention?
In today's mobile age, reaching potential clients is now easier than ever, but you're also facing the constant challenge of excess noise with the endless amount of content being served at any given time. The digital landscape is constantly evolving, and brands that don't evolve with it will no doubt get left behind. So, how will you stand out from the crowd and do it better in 2018?
Here are three trends you should utilize to make this your best year yet:
Tell Your Brand's Story with Video
Scroll through just about any social media feed, news article or website, and you're sure to see video. From live streaming to how-to clips to promotional content, it's clear video is taking over the digital landscape.
Video has been an emerging trend for the past couple of years, but it really gained momentum and took off in 2017. We live in a smartphone world, where we're constantly being feed content, and video has become a way to stand out from the crowd to get (and hopefully keep) potential clients' attention.
For 2018, try adding a video content strategy to your digital planning. You can share interesting facts about your brand or industry in short, sharable six-second videos. Try showing off your best services and client experiences with a 30-second testimonial. Or, if you're hosting an event, go live and share the experience with your followers on Facebook Live, Instagram Stories or Snapchat.
The Rise of LinkedIn
Professional networking social media site, LinkedIn, is finally getting its time in the spotlight. With over 500 million users, LinkedIn gives you the opportunity to connect with right-fit referral sources, express your knowledge as a thought leader in your industry through published posts and reach a targeted audience through the site's advertising platform.
If you're new to LinkedIn marketing, a great place to start in 2018 is with an audit of your own profile on the network. Is your profile information complete and current, including a professional headshot and captivating summary? Have you connected with colleagues and others within your industry? Have you joined LinkedIn groups where you can share your knowledge?
LinkedIn is no longer just a place for job hunting; it's positioning itself to be a major contender within the professional community online, as a social media network and a B2B marketing channel. Establishing yourself, and your brand, on LinkedIn will take time and thoughtful effort, but with its fast-growing network, it's definitely a platform worth having a presence on in 2018 and beyond.
Reach New Clients with Geo-fencing
Maybe you've heard of it, maybe you haven't, but either way, geo-fencing is changing how marketers reach their target audiences. Geo-fencing is a form of mobile marketing that uses a location-based technology to provide brands with the opportunity to hyper-localize their target audience. This is done by setting up parameters around locations such as your business, a competitor's location or any other places you think your ideal client might frequent.
The integration of geo-fencing into your mobile marketing plans can help you achieve a variety of goals. You can present ads, relevant content or promotional coupons to potential clients. These ads are fired off when a potential client enters your virtual parameters with a mobile device with built-in GPS. Once picked up, geo-fencing allows you to serve your ad or promotion to any specific audience(s).
So, why leverage location-based targeting in 2018? You'll reach potential clients when they're on the go and when they're potentially in need of your services, keeping your brand top of mind throughout the decision-making process.
Stand out and stay ahead of your competition this year by adopting new technologies and tactics, like the three trends here, for your 2018 digital marketing strategy. Now is the time to take your brand to new heights, and CIM Marketing Partners is ready to take you there.
Bright lights. Bold risks. Big news.
That has been Las Vegas' claim to fame for more than 100 years. Millions of visitors flock to the desert oasis each year to try their luck at winning the immense jackpots, dangled like a carrot in front of hungry animals. Mixed with the first-class entertainment, five-star dining and top-tier events, Las Vegas has long been the topic of conversation. But what happens when the topic turns dark? How does the messaging change when the topic turns from joy and merriment to dismay and despair?
It has been one month since the mass shooting that stunned Las Vegas, the country, and the world. From the moment we began to understand the scale of the events that transpired on Sunday, October 1, our messaging changed from our usual promotional messaging to crisis communication.
Crisis communication is defined as a sub-specialty of the public relations profession that is designed to protect and defend an individual, company, or organization facing a public challenge to its reputation. While, thankfully, none of CIM's clients were directly involved in the shooting, we were all affected by it. As a full service marketing and PR firm, in all we do, we seek to minimize negative impact on our clients by controlling messaging coming out of and about the company. Any messaging we distributed to the public in the days and weeks following the tragedy had to be presented in a sympathetic manner, not triggering or opportunistic in any way. We have to make sure the client is always viewed in as positive a light as possible, while still holding true to the mission of the business while treating the situation with the respect and reverence it deserves.
We've seen examples of amazing crisis communications and some missteps in the wake of the shooting. With too much promotion of the business, the company looks uncaring and insensitive. Too much emphasis on the event can cause public perception to view the company as opportunistic. Getting crisis communication right is a science, and it's not one that comes easily.
Crisis communication has been a staple in marketing communications since the beginning of time. Companies are creating crisis communications plans to ensure they have the direction needed to navigate these critical waters. How a company deals with a crisis could determine the future success of that business. Take, for consideration, the recent sexual harassment and assault allegations against numerous Hollywood heavyweights, like Harvey Weinstein, Kevin Spacey, and more. Each of the accused has their own crisis at hand, and is doing what they can to minimize the lasting impact on their client. However, there are larger companies behind these public figures and they have their own crises to contain.
In the case of Harvey Weinstein, he was promptly removed from his position at The Weinstein Company and the company released a statement condemning his actions – an appropriate response considering the gravity and vile behavior of which he has been accused. On the other hand, Spacey chose what has been called "the worst time to come out" in his statement apologizing for his alleged misconduct. He has since been skewered on social media for his response and filming of his hit television show, House of Cards, has been suspended indefinitely.
Messaging and timing are key, and it can be tough to recover when you get one – or both – wrong.
Crisis communications isn't an area to be taken lightly or with the guidance of an amateur.Best-case scenario is to have a solid crisis creation plan before anything happens, so when the time comes, you know what to say and when to say it. With 21 years in the communications business, CIM can show you the way.
Earlier this year, I stood in front of my entire team; a handpicked, strong team of talented and dedicated individuals. As the agency turned 21, we talked about goals for the company and brainstormed how to make 2017 the best year we've had yet. As I looked around the room at the faces I had gathered, I knew there was no better team I wanted to travel this journey with.
1996 was an entirely different time. We focused on marketing for TV, radio, billboards, direct mail and, of course, the Yellow Pages. To think these tactics are just a small portion of the marketing tools in our arsenal is mind-boggling. Today, we combine many of these traditional tactics with a heavy mix of digital marketing – responsive websites, social media, SEO, pay-per-click, and more. The Internet has completely changed the way we do business and reach our customers/clients. The pace is faster, and we have risen to the challenge to stay ahead of the curve. We're constantly learning, but the one thing that remains constant, no matter what tactics we use, is that brand always wins!
Before graduating from University of Nevada, Las Vegas, I had a course that has always stuck with me along this journey: Services Marketing. In that class, I fell in love with the challenges of marketing the intangible. Professional services face an interesting conundrum in marketing: with a product, people can see, touch and compare; with a service, people must be convinced that your services are excellent and will not know if they have had a great experience until after the job is done. This challenge was attractive to me, and for the past 21 years, our firm has focused on providing first class marketing and brand management services.
I've been blessed to have created and sustained a niche client-base since establishing the company – professional services. Although we've worked with products, restaurants, events, venues, and other non-service based companies, we have truly found our value in marketing professional services. From my first major client, Palm Mortuary, that we worked with for nearly 10 years, to the amazing clients we work with today, we have been eager to assist the professional service community.
No ride is complete without the highest of highs and lowest of lows. Like most people in business prior to 2008, I enjoyed the immense growth of our company and our business. For 12 years, I built a company I loved and put my heart and soul into it. Overnight, the economy crashed, and the joy of the ride came to a screeching halt – I wasn't sure CIM Marketing Partners would survive those years. But we persevered and rebuilt.
After 21 years in business, what have I learned? I now know that I will never stop learning. Every experience – the good ones and the terrible ones – have taught me how to be a better entrepreneur. I understand that while business hours are important, the work I put in after hours has been some of the most rewarding. Organizations like the American Marketing Association, Legal Marketing Association and Leadership Las Vegas gave me the knowledge I needed to learn and helped me build a powerful network I could tap into in times of need.
Everyone has to reinvent themselves in order to survive. Change and adaptation are the keys to a successful future. We see it every day, in our friends, family, and in nature all around us. We have to be open to change, and then have the courage and tenacity to DO IT!
Your team is essential. Every step of the way, I've been blessed to have a strong team around me. One that shared in my vision, and was committed to helping me achieve it. I wake up every day and my career feels like a day of play and joy, and I am honored to have this team by my side. When you have a team around you that adapts with you as the industry changes and is willing to develop themselves professionally to be able to keep up with the demand of your clients, success happens.
And finally, I've learned that you can't predict the future. We all know that's not an option, but it bears repeating. You can work hard to prepare yourself for what may come, but you never know what's coming until it actually gets to your door. So, stay flexible and move strategically. Reacting to tough times with strength is the best indication that you – and your company and team – will make it through those times.
While scrolling through social media recently, I found a quote I absolutely love: "You don't get paid for the hours, you get paid for the value you bring to the hours." It is the value of the hours that I have brought to my family, my team, my clients, and my community that have made these past 21 years worth it. I am grateful to have been trusted to build a company that builds other businesses. And I cannot wait to see what the future holds – it's been a great ride and there is so much more adventure ahead.
Created in Las Vegas. Serving Las Vegas. Respected in Las Vegas. CIM hit 21, and I'm all in.
~Darcy k. Neighbors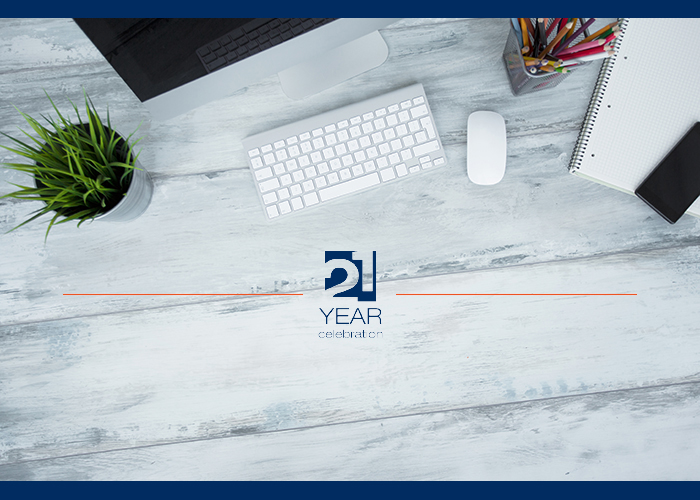 Las Vegas, NV – CIM Marketing Partners is pleased to announce new hires and promotions in multiple departments.
"What makes our business unique and successful is that we continue to prioritize our team," said CIM Marketing Partners' Founder/CEO, Darcy Neighbors. "We are thrilled to promote team members who have been vital to our growth and ongoing success, and to bring in team members who are essential to the next phase of our growth and expanding service offerings."
April Kemp has been promoted to Integrated Communications and Social Media Manager. She is responsible for managing client accounts and developing traditional and online campaign strategies drawing on her experience in public relations, legal marketing, social media management, and digital marketing.
Ashley Trevizo has been promoted to Account Manager. This new role is designed to help support the marketing and public relations team deliver and support client demands for cross-platform brand management and video production.
With the rapid growth of CIM's digital and web design department, Rommel Fowler joined the firm as Web Developer. Fowler comes to CIM with extensive web design experience from the University of Nevada-Las Vegas.
Within the creative and production team, Matt O'Keefe has been hired as full-time Graphic Designer from a previous part-time position with the firm. Matt brings to the company nearly a decade of award-winning work as an artist, photographer and graphic designer.
"We are very fortunate to have this talented team of professionals in-house, and we look forward to seeing their growth and development in the industry," said Don Pursell, CIM Principal.
MEDIA CONTACT:
Lori Goodwine
Public Relations Director
[email protected]
702.723.9302
Las Vegas, NV – CIM Marketing Partners is celebrating 21 years of business with the official opening of its office located at 10801 W. Charleston Blvd, just adjacent to Downtown Summerlin. The move was effective Aug. 7, 2017.
The unique 3,000-squart-foot, state-of-the-art office space features open design workstations, private offices, a digital conference room and modern collaborative spaces with distinctive architecture and progressive design elements. The office space is located in the LEED certified City National Bank Building.
During the first week of celebration, CIM employees took an "Ocean's Eleven" style group photo in front of its brightly colored entrance to showcase the firm's new look, modern feel and team spirit. "The new space features a smartly configured floor plan designed to promote worker productivity in a collaborative environment, which also revitalizes the firm's culture, image and digital technology future focus," said Darcy Neighbors, CIM Marketing Partners' Founder/CEO.
Since its founding in 1996, CIM Marketing Partners has grown significantly and employs a team of 12 with proven experience and capabilities in brand strategy, digital marketing, creative design, pubic relations and social media management.
CIM Marketing Partners offers a full range of brand management services on a local and national level for more than 35 clients including prominent law firms, professional services companies and health care providers. The firm is recognized for its innovative, results-based Strategic Marketing Summit® and comprehensive business development initiatives. Based in Las Vegas, Nevada, CIM serves organizations of all sizes in a variety of industries and professions and is well regarded for its focus on law firm marketing.
Notably, the firm has collected between $200,000 and $350,000 in philanthropic donations each year for the last 17 years through its nonprofit organization, DJ's for PJ's, a Southern Nevada cause designed to provide new pajamas and caring comfort to children in crisis. To date, the nonprofit has collected and donated more than 92,000 pairs of new pajamas to area programs that serve at risk children and youth.
What a year it has been! 2015 has been one for the books for me, personally and professionally, and I'm excited to see what the future holds.
Lessons in life are frequent and recurring; just when you think that you know and are prepared for life's lemons, another lemon comes to find you. One of the earliest lessons that I learned when I opened my business in 1996 is that you have to work constantly to fill your client pipeline. Keeping your pipeline full ensures that you always have fresh, right-fit clients to keep you and your team's creative juices flowing. I always say that you must profit to service and survive, and that has been made more and more apparent to me over the past several years.
Although Nevada is finally showing signs of recovery, we all know just how quickly a change can happen. To keep a successful business alive, it's imperative that business owners remain proactive and involved in every step in building the business. It is very easy to get caught up in the amount of work that you need to do to keep clients happy that you forget to treat your business in the same manner. This step is crucial to ensure that your business is sound and that you have a strategy in place to survive during months when business may be a bit slow.
One thing that we encourage for all of our clients is a yearly strategy session, called the Strategic Marketing Summit ™, where we create a Diversified Marketing Portfolio® or DMP. We keep this document on hand throughout the entire year and refer to it frequently. It specifically outlines whom they are marketing to, where and how we present the brand each month of the year. That way, there are no surprises and we make a concerted effort to constantly move the business forward.
The Result: With prior planning, your business is the most efficient that it can be with the resources to gain the best clients because you have strategically marketed to them and identified them as the right fit for the future of your company.
In addition to creating a plan to develop your business, put a plan in place to develop your team, including yourself. A strategy is wonderful, but if you lack the right team behind you that also shares your vision for success, no one will be able to get anywhere. Not only are these people the face of your company to clients, vendors and competitors; they are your work family and brand ambassadors. At CIM Marketing Partners, the people working here believe in the company just as much as they believe in themselves. Together, we moved forward.
As we head into 2016, I hope that you have done all of your planning. Similar to life's challenges, the best advise for successful business owners also comes in three's:
Have a solid strategy, a solid team, and a solid execution. With those three things, everything else will fall into place.
Happy Holidays and Happy New Year!
My entire career has evolved around marketing and advertising, and I must say, I have produced, scripted and watched 100's if not 1000's of commercials; this is one of the very best I have ever seen! Before you watch it, let me explain why I think this is so well done.
First, there are very few commercials that can hold the audience's attention with not one word spoken!
Second, the video production, visual scripting and direction are spot on.
Third, the EMOTIONAL message conveyed will tug at your heartstrings,
and lastly, the simple branding for Food City is more than memorable and associated to a positive message, which adds a total emotional feeling towards the brand.
Final thoughts…Thanks for your service grandfather and grandson, so that I can live in a country where freedom rings. Enjoy and share this link and touch someone else's day, if only for a minute.
---
You have been limping along and trying to do marketing and public relations in house with little to no results?
There are 5 CIMple considerations in looking for and hiring an outsourced marketing or public relations agency:
Does the agency you are considering have experience marketing for the service or product area you and your company focus on? If yes, great. If no, that is great, too! There are pros to hiring an agency with experience, as their learning curve is greatly reduced. On the flip side, an agency that has a solid track record of success with various types of businesses has the ability to look at your business with a set of fresh eyes and have no preconceived ideas on how you or your competitors have been marketing. This can often times bring fresh insight to marketing and positioning your business.
Ask the question, how long have most of their clients been with them? If it is well over three years, which is the industry average, that is a solid agency with a proven track record of getting results for their clients, or they wouldn't continue to retain and partner with the agency.
Ask the question, what is the turnover of key executives or account service people? The last thing you want is a revolving door of people servicing your account.
Ask the question, what is the driving force behind the agency? If they drive with creative and not strategy first, that could be a serious problem. Effective marketing and growth always comes by laying down the strategy first and following with creative and tactics.
Very important, do you really connect and like the people you will be working with? Does your gut and intuition tell you this is an agency that really cares about their clients and their success?