OBJECTIVE
During an annual Strategic Marketing Summit® with our long-term client, we were looking at business goals and marketing strategies for the upcoming year. One never-ending goal is to expand on brand differentiation. So, the question became, what is a need that's not being filled by competitors, one that would be seen as beneficial and important to the families the company served? The answer: Grief support that goes deeper than the empathy provided while helping families in their greatest time of need.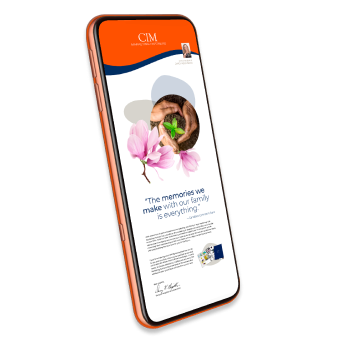 STRATEGIC PLAN
The CIM team needed to create a robust grief support program that would become part of the aftercare families receive following a death of a loved one. We performed extensive research on the topic of grief and, of course, found articles, books, counseling service providers, etc. All of these would require an individual in need of grief support to look for these resources, just as we had. How could we directly provide support material for our client's families? We would develop a series of substantial grief coping newsletters, to be mailed monthly to family members over the course of the year following their loss.
EXECUTION
The team continued by doing the following:
Content: We needed content…plenty of quality content! During our research phase, we had accumulated substantial content. We thought, we can create similar content or brand new content, or we can reach out to the sources of that content to seek permission to use it ourselves. We picked up the phone and called dozens of these sources, and most were gracious to say, "Yes, it sounds like you're doing a wonderful service. You may certainly repurpose my content." We developed a release form for them to sign and thanked them profusely for their assistance. Of course, we noted the source of the original content next to each use.

Design:

Our creative director laid out and designed a very soft, calming layout of the newsletter. It was filled with pastel colors for the desired look and feel, and a fairly large font size was used (based on the target demographic, mostly seniors). Each issue contained a balance of articles about dealing with grief, positive action steps to help one move forward, honoring and remembering loved ones, etc. We also included useful information about handling the necessary action steps following any death, such as handling taxes, estate details and closing down or retitling accounts.
Logistics: With the 12 issues created and ready to roll out, we worked with the client to develop a manageable system for distribution. As families were served, they collected names, addresses and email addresses of all individuals who would like to receive the aftercare newsletters. A single family, for example, may have provided six family members' information. Each month, we'd handle the printing and mailing of the proper issue to each individual.
RESULTS
The feedback from the funeral home's clients was appreciative and extensive. Our client received thank you notes and phone calls, and our client was so proud to help meet families' needs in an additional way.
There were two unexpected outcomes from this project. The funeral home found that creating this extended communication with families already served strengthened their connection, driving hundreds of these people to reach out for pre-planning assistance for themselves. (NOTE: We considered, but quickly ruled out, any cross-selling content within the newsletters. We wanted these newsletters to be 100% non-self-serving.) For CIM, we received a call from the largest funeral provider in California about the program, and we ended up creating a custom grief support newsletter program for them, as well.